Spiritual warfare is real and we must arm ourselves with the Word of God to overcome it.  Our fight is against spiritual forces of evil, or another way of saying good verses evil.  Satan wages war for man's heart to separate man from God.  But for us believers the battle has already been won as Jesus overcame death, hell, and the grave.
Spiritual warfare is the act of fighting against satan when he tries to keep us from God's calling.  In 1 Peter 5:8 it says, Be of sober spirit, be on the alert.  Your adversary, the devil, prowls around like a roaring lion, seeking someone to devour.  The Bible tells us to be watchful and to guard our hearts against sin.  That is why it is important to watch what we listen to and what we watch on tv.  What you put in your spirit can manifest for good or evil.  1 Corinthians 16:3 says that, Be on the alert, stand firm in the faith, act like men, be strong.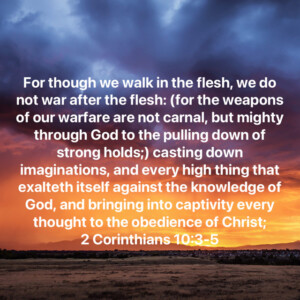 In order to engage in spiritual warfare you must recognize that it exist.  Even though there are battles going on in the natural world, there is also battles raging in the supernatural world.  Thank the Lord that He has equipped us to fight every battle going on around us.  We are to stand on the Word of God and put the Word to acton in our life to conquer the enemy.  Hosea 4:6 says that, My people are destroyed from lack of knowledge.
Your mind is the devil's favorite place to wage battle against you.  That is why he is the father of lies.  If he can get you to believe the lies and not the truth of the Word of God then he has you.  Fear is one of the easiest ways that the devil can cause deception in our lives.  Many people give into fear because they don't stand on faith and believe that the Lord is going to do what He says.  Or they believe that the answer is taking longer to come than they thought and they allow fear to set in.  The devil will take advantage of your vulnerabilities and circumstances to make you worry and rob you of your joy.  He wants you to believe that he is higher than our God and he will provide for us.
So what do we do to defeat the enemy.  You must engage in the war that is going on around you.  Be active not passive.  Be confident that God's power working through you is greater than the evil working against you.  Take authority over your life by declaring God's greatness for you.  Remember you have all power and authority given to you through Christ Jesus.
Your commander in this war is Jesus Christ and your guidance comes from the Holy Spirit.  Listen for the prompting from the Holy Spirit on how best to pray and to take authority over your life and the atmosphere around you.  You are part of God's army.  He will never leave you nor forsake you.  1 John 5:4 says that, for everyone who has been born of God overcomes the World.  And this is the victory that has overcome the world of faith.
We are overcomes!  The victory is already ours.  Jesus has already won the battle, now walk in that truth and live it.  1 Corinthians 15:57 says that, "But thanks be to God, who gives us the victory through our Lord Jesus Christ".  Do not let the devil rob you of your joy, go to battle and declare victory over the enemy because you are a child of the Most High!