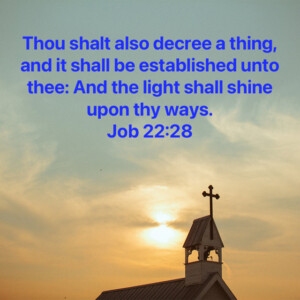 The Bible says to declare a thing and it shall be established.  As believers we are to exercise our authority and power that was given to us by Jesus.  Your mouth is a weapon for what you are contending for and it is also a weapon for what you are fighting against.  Mark 11:23-24 says that Truly I say to you, whoever says to this mountain, " Be taken up and cast into the sea," and does not doubt in his heart, but believes that what he says is going to happen, it will be granted him.  "Therefore I say to you, all things for which you pray and ask, believe that you have received them, and they will be granted you".
To declare means to announce officially, to state or proclaim something.  To decree means to make an authoritative order, ordain what must come to pass.  For example, I declare health over myself.  I decree health because the Bible says that by His stripes I am healed.  My healing has already been established (Isaiah 53:3).
A decree is an official order issued by authority.  For it to be official it must be made by someone who has the power to order it.  The good news for us is that we have been given this power and authority by Jesus when He came to the earth.   We have the authority to decree His word.  The biblical truths become real to us when we decree them.  When we decree we are speaking our faith.  We see God decree in Genesis 1:3, Then God said, Let there be light: and there was light.
A declaration is the acknowledgment of something that is already.  You need the word of God to back a declaration up and make it happen.  Our declarations have power because of the authority of God's Word.  Isaiah 55:11 says that, So shall My Word be that goes forth from My mouth; it shall not return to Me void, but it shall accomplish what I please, and it shall prosper in the thing for which I sent it.
Our declarations of faith will always be honored and confirmed by God.  Everything that we bind on earth, will be bound in Heaven.  Whatever we loose on earth shall be loosed in Heaven (Matthew 16:19).  When you decree and declare it brings supernatural transformation to your life spiritually and physically in Jesus name.  There is a very strong force behind a Godly Declaration.  It is backed up by a strong Spiritual force.
It is not enough To know the Word of God, but we must go further and proclaim it over our lives.  You must learn how to exercise authority when you pray.  The power of God is sufficient to deliver us when we activate our authority as a child of God.  When you decree and declare, speak God's blessings over your life, institute the very will and purpose of God and destroy the plans of the enemy.  Declare the Lord's words everyday not your own.  When you declare a thing, you are telling God that you believe in His supernatural authority.