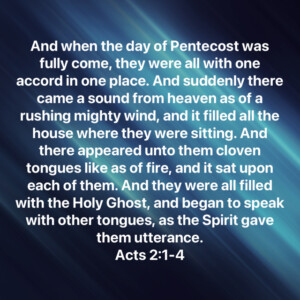 As a born again believer of Jesus Christ, you are given the opportunity to be baptized in the Holy Spirit.  When you are baptized in the Holy Spirit, you receive a gift from God, the gift of speaking in tongues.  It is a powerful gift that every believer should desire.
Speaking with tongues is a supernatural sign or evidence of the Holy Spirit indwelling.  The more that you pray and worship God in tongues, the more manifestation of other gifts of the Spirit come about.  Speaking in tongues is the door to the rest of the Spiritual gifts.
Mark 16:17 says that, These signs will accompany those who have believed, in My name they will cast out demons, they will speak with new tongues.  This verse shows us through Jesus, how to take authority in the unseen Spirit Realm, authority to operate over demons, and authority to have access to the realm of the Holy Spirit to speak with new tongues.
Tongues is the key to operating in the Kingdom at a higher level.  As a believer you should operate in the gift of tongues to access the Supernatural.  Just as Paul did in the New Testament, He wrote about the subject of speaking in tongues.  As evident in 1 Corinthians 14:18 which says, I thank my God, I speak with tongues more than ye all.  Speaking in tongues everyday will bring blessings and a source of power to your life.  That is why I wanted to go over eleven reasons why you should be speaking in tongues.
Tongues Reminds Us Of The Indwelling Presence
Speaking in tongues assists you in the worship of God.  By continually praying and worshiping God in tongues you will be conscious of His indwelling presence.  John 14:16-17 says that, And I will pray, the father, and He shall give you another comforter, that He may abide with you forever, for He dwellers with you, and shall be in you.  This is a reminder that you are not alone when challenges arise.
2.  Tongues Is Evidence Of The Infilling Of The Holy Spirit
In the book of Acts you see that speaking in tongues is the initial evidence of the filling of the Holy Spirit.  We have so much power when we are filled with the Holy Spirit.  This power is to flow out of you to show others the realities of Jesus.
3.  Tongues Is The Direct Contact With God
Speaking in tongues is your own private language with God.  Satan cannot come between you and God when you pray in tongues because He does not understand the language.  It is a sharing of intimacy between just you and Him.  1 Corinthians 14:2 says that, for he who speaks in a tongue does not speak to men but to God.  For no one understands him, however, in the spirit he speaks mysteries.
4.  Tongues Is For Spiritual Edification
1 Corinthians 14:4 says that, He who speaks in a tongue edifies himself.  The word edify means to charge, like charging a battery.  When you pray in tongues you are getting spiritually recharged and refreshed.  The Holy Spirit gives you what you need.
5. Tongues Helps With Our Weakness
The Holy Spirit will help you gain strength in any area of weakness.  Romans 8:26 says that, Likewise the Spirit also helps in our weakness.  For we do not know what we should pray for as we ought, but the Spirit Himself makes intercession for us with groaning which cannot be uttered.  So whenever you are feeling weak or defeated pray in tongues.
6.  Tongues Is Praying God's Perfect Will
Have you ever tried to pray but did,'t know how to start?  When this happens pray in tongues because the Spirit will intercede for you.  This way you can be certain that you are praying God's will and not your own.  Romans 8:27 says that, The Spirit intercedes for God's people in accordance with the will of God.
7.  Tongues Enables Us To Pray Out Mysteries
When we pray in tongues God is giving you inside information.  It is during this time that He gives you divine revelation.  Tongues is a mystery master and problem solver.
8.  We Can Interpret Our Tongues
When we speak in tongues, the Holy Spirit in our soul, is speaking through us to God.  When you interpret the tongue, it is God speaking back to us through the Holy Spirit.  1 Corinthians 13:13 says that, wherefore let him that speakers in an unknown tongue pray that he may interpret.  All you have to do is ask God to help you with the interpretation.
9.  Tongues Stimulates Our Faith
Praying in tongues stimulates faith and helps you learn to trust God fully.  The Holy Spirit supernaturally directs the words you speak, and your faith is exercised when you speak with tongues.  Jude 20:20 says, But you, beloved, building yourselves up on your most holy faith, praying in the Holy Spirit.
10.  Tongues Gives Thanks Well
A grateful heart is not only honoring to God, but it will accelerate your promotion and increase.  Praying in tongues helps you with your love and gratitude toward God.  Tongues helps express love and worship when your words fall short.
11.  Tongues Magnifies God
The most important reason to pray in tongues is because it magnifies God.  When God becomes bigger in your life, doubt and fear will disappear and your faith will grow.  Acts 10:46 says that,  for they heard them speak with tongues, and magnify God.  God is worthy to be praised!
Let these eleven reasons to pray in tongues light a fire in you.  Tongues will stir up the power of the Holy Ghost inside you when you begin to incorporate tongues in your prayer life, doors to the realm of the Spirit will open to you.  Praying in tongues is a gift that is available to every believer.  Ask the Heavenly Father to baptize you in the Holy Ghost to speak in tongues, and watch what begins to happen in your life.