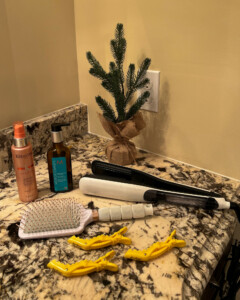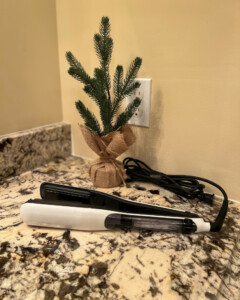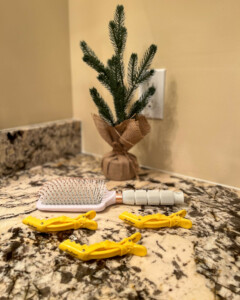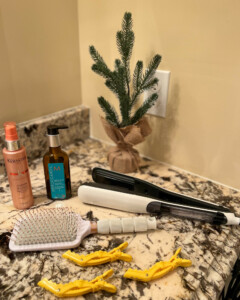 DETAILS:
Flat Iron: SteamPod | Spray: Kerastase | Oil: MoroccanOil
Hair Clips: DryBar | Brush: T3
I have been using my SteamPod for over a year now, and I really like how it straighten's my hair.  I have naturally wavy/curly hair that gets frizzy as soon as moisture hits it.  But my hair stays straight for days with the SteamPod.  Not only does my hair stay straight, but my ends are not split or dry.
The SteamPod uses exclusive steam technology and an integrated comb to transform and style all hair types to perfectly straight or natural waves.  The steam technology surrounds the hair with a steady distribution of steam while never getting the hair wet.  It also has three heat settings to choose from and has intelligent heat control that checks the temperature up to twice per second for steady temperature.
I start by spraying the Anti-Frizz spray from Kerastase on my wet hair, then I put the MoroccanOil on my ends.  Then I dry my hair with a hairdryer half way, then I let it air dry the rest of the way.  Once my hair is dry, I split it into sections with the DryBar clips and begin to straighten my hair.  When I am done, my hair will stay straight and smooth for days.  If you use a flat iron, give the SteamPod a try.