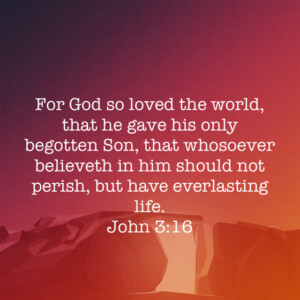 Salvation comes from the Blood of the Lamb!  Jesus was the lamb that was slain so that we may be washed white as snow.  Since Adam and Eve sinned in the beginning, there has been sin on earth.  In the Old Testament you could only atone for your sins by a blood sacrifice from an animal.  This type of sacrifice was only able to cover their sins not remove them.  Only when Jesus came to the earth to be our sacrifice could we be completely washed and covered by the Blood.  We no longer have to sacrifice animals, Jesus was our deliverer.  2 Corinthians 5:21 says that, Jesus who knew no sin was made to be sin on our behalf so in Him we might become the righteousness of God.   We can not save ourselves, only the divine Blood of Jesus Christ shed on the cross, can make us righteousness in His image.
Salvation means the deliverance from the power and effects of sin.  Salvation saves us from judgement and an eternity from Hell.  You can not earn your salvation by good works or buy your way into Heaven.  Ephesians 2:8 says that, By grace you have been saved through faith, and not of yourself, it is the gift of God.  When you are saved you give up your old self for God, He becomes the most important thing in your life.  He who does not take his cross and follow after me is not worthy of me (Matthew 10:38).  You must hunger and thirst for righteousness!  Through salvation we have been redeemed, we have a new covenant with the Father, and we have been cleansed.
REDEMPTION:
Jesus is our redeemer and He has redeemed us back unto God.  Redeem means to free, recover, by payment of the amount due.  To ransom, liberate, free from bondage, cavity, or punishment to save by paying a ransom.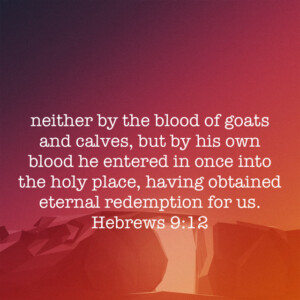 Jesus paid the ultimate price for our redemption.  He loves us so much that He gave His life for us so that we could spend eternity with Him.  We do not deserve redemption and we can not earn redemption through good works.  Redemption becomes real the moment we receive Christ in our hearts.  Redemption is not only for our sins, but also to help us walk in the realm of His Glory.  We are moving from the kingdom of darkness into the kingdom of light.  Jesus redeemed us so that we could be free, and we are free indeed!  His Blood is the foundation of the New Covenant.
NEW COVENANT:
The New Covenant did for us what the Old Covenant could not do.  Old Testament sins were only atoned for, which means they were covered.  In the New Testament Jesus' Blood washed sin away, His Blood is more powerful!  Sin was removed not covered.  Therefore if any man be in Christ, he is a new creature; old things are passed away; behold all things are become new (2 Corinthians 5:17).  A covenant with God means that you confess your sins and believe in Jesus as your Savior, for the forgiveness of your sins.  The Blood of Jesus speaks on our behalf,  as the covenant of His Blood breaks the power of all other covenants.  Old things are washed away and you become new!  Ephesians 4:24 says, And that ye put on the new man, which after God is created in righteousness and true Holiness.  The New Covenant not only cleanses you from all sin, but it also bought you a new life, an abundant life.  The word says you shall have life, and life aboundantly (John 10:10).
CLEANSING:
The Blood of Jesus actually washes away the stain of sin.  Revelation 1:5 says, And from Jesus Christ, the faithful witness, the first born the dead, and ruler over the kings of the earth.  To Him who loved us and washed us from our Sin in His own Blood.
Jesus' Blood is so powerful that it washes and cleanses you of your sin, not just covers it but takes it away.  By sending His Son, God provided a way from sin to be removed from earth, and you could live a guilt free life.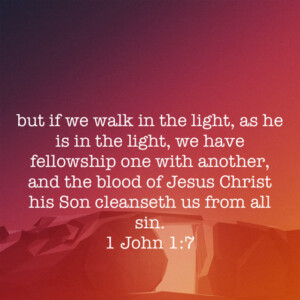 In the NKJV this verse says the He cleanses us from sin and the NIV says that He purifies us from Sin.  Purify means to remove all impurities.  As your old self is changed, you will grow in fellowship with God and one another.  His Blood was a cleansing stream, it broke the chains and bondage of sin that held us captive since Adam and Eve.
His Blood has made you white as snow (Revelation 7:14).  His Blood has the power to make you free, His Blood is the foundation of the New Covenant.  His shed Blood gives you peace, joy and contentment.  His Blood fills you with love!
If you would like to receive Jesus Christ as your Lord and Savior, all you have to do is ask for forgiveness of your sins.  Believe that He died on the cross and rose from the dead so that you may have life for eternity with Him.  Make Him the Lord and Savior of your life and change from your evil and wicked ways.