DETAILS:
Parfum: Louis Vuitton | Parfum: Estee Lauder
Parfum: Estee Lauder | Tray: Brightroom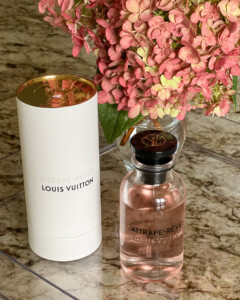 When I think of my favorite fragrance's, these are my top three.  Louis Vuitton Attrape-Reves has great staying power.  The first time I tried it, I could still smell it on me the next day.  That fact alone makes it worth the money.  It has a sweet smell but not to sweet that it is overwhelming. It is an amber floral fragrance, with key notes of Cocoa, peony accord, Litchi accord, patchouli heart, Turkish rose absolute, ginger and bergamot.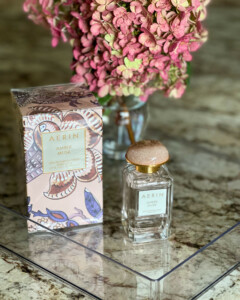 I have always been partial to a fragrance that has musk in it.  That is why I like the Aerie Beauty Amber Musk, it has a woodsy, musk smell.  It is warm and inviting but not too overpowering.  I tend to wear this fragrance more in the fall and winter.  The top notes are magnolia leaves and coconut water.  Middle notes are minuet, rose centifolia absolute.  Base notes are ambrox, benzoin, praline, Australian Sandalwood and musk.  With fall coming, this would be a good time to give this fragrance a try.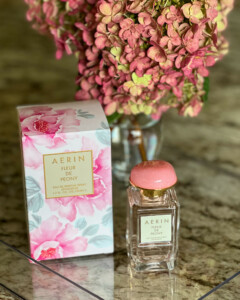 Aerie Beauty Fleur de Peony is a Nordstrom exclusive and it as a fruity and floral scent to it.  I kind of stumbled on this one and bought it without trying it.  Now I am on my third bottle!  It has a nice floral scent but also has musk in it to add warmth.  Top notes are mandarin, pomelo and lychee.  Middle notes are peony, jasmine petals and cyclamen.  Base notes are sandalwood, ambrox and musk.  If you are partial to floral scents, give this one a try and you will not be disappointed.