The anointing of God is just as important for us today as it was when Jesus walked the earth.  Luke 4:18-19 says that, the Spirit of the Lord is upon me, because he hath anointed me to preach the gospel to the poor; he hath sent me to heal the brokenhearted, to preach deliverance to the captives, and recovering of sight to the blind, to set at liberty them that are bruised, to preach the acceptable year of the Lord.. God's anointing only comes through the power of the Holy Spirit.  When you ask for the Holy Spirit to dwell in you, God also anoints you with power and authority to do His work.  Acts 1:8 says that, But ye shall receive power, after that the Holy Ghost is upon you.  This allows you to perform the calling God has on your life.
Everyone can receive the anointing from God if you live free of sin.  John 3:8 says that, He that committed sin is of the devil.  God cannot use you for your calling when you have sin in your life.
The anointing is used to set a person, thing, or place aside for divine use.  The anointing releases power to a person to do God's work.  When you have truly been baptized in the Holy Spirit and are filled, full and overflowing, you will have the same authority and power that was demonstrated in the life of Jesus.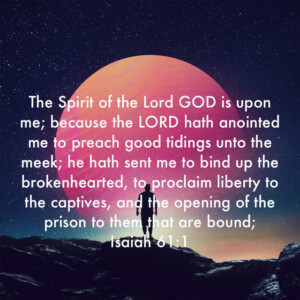 God has put His royal mark on us through the anointing.  When you are under the anointing you can do things that you would normally not be able to do.
When you are under the anointing you are able to break yokes.  A yoke is anything that has you in bondage.  It breaks every limitation on your life.  The anointing breaks the yoke of darkness.  Isaiah 10:27 says that,  And it shall come to pass in that day, that his burden shall be taken away from off thy shoulder and his yoke from off thy neck, and the yoke shall be destroyed because of the anointing.
The anointing also brings favor into your life.  God wants to prosper you and give you a life of fulfillment.  He doesn't want you to be downtrodden and despaired.  You are blessed and highly favored.  Luke 2:52 says that, And Jesus increased in wisdom and stature, and in favor with God and man.
The anointing protects us.  We have a covenant with God, no harm shall come upon us because He holds us with His righteous right hand.  Isaiah 41:10 says that, Behold the Lord God will come with strong hand, and his arm shall rule for him; behold, his reward is with him, and his work before him.
The words we speak under the anointing come to fruition.  When you say, I declare I shall live and not die.  We are speaking out our faith.  When you decree a thing it shall be established, and you will have what you say.
The anointing also provides for us.  Psalms 23:5 says that, Thou prepares a table before me in the presence of mine enemies thou anoints my head with oil; my cup runneth over.  When we are under the anointing we have no lack.  Lack is of the devil.  It is God's desire to bless you abundantly.  He loves you so much and He wants to overwhelm you with His blessings.
The anointing transforms any person who receives the Holy Spirit to have supernatural abilities.  The anointing compensates for any lack and changes our weakness into strength.  Under the anointing we are able to accomplish in the supernatural what we would not be able to accomplish in the natural.
Meditate on the Lord's word and grow near to Him.  Hunger and thirst of Him and watch what He will do in your life.