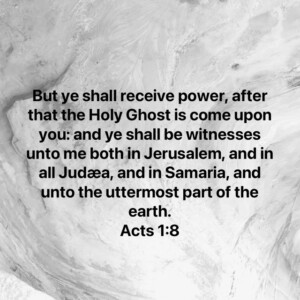 There are four different Greek words that are used in the Bible to represent the word power.  They are dynamos, exousia, Ischus and Kratos.  The most used in the Bible are dunamis and exousia.  So lets take a look at these words and get a better understanding on how to use these kinds of power in your life.
DUNAMIS:
Dunamis is used 117 times in the New Testament and is the most prevalent.  If you look up the word dunamis in the Strong's Concordance, it means; force, miraculous power, ability, abundance, power, strength, violence and mighty work.
Dunamis is a tangible demonstrated power.  Many times the force of dunamis is felt physically and spiritually.  This is evident in Mark 5:30, which says, "Immediately Jesus, perceiving in Himself that the power proceeding from Him had gone forth, turned around in the crowed and said, "Who touched my Garments."
Dunamis represents the kind of power that is an inherent force.  It flows from a person to give them the ability to do Supernatural things, like healing and miracles.  When the Bible uses the word dynamos, it never refers to your strength or ability but rather to His power through you.
EXOUSIA
Exousia is the second most prevalent word used to describe power in scripture.  Exousia represents the power that comes from delegated authority.  The Strong's Concordance says that exousia means; privilege, competency, freedom, authority, jurisdiction, liberty, power and strength.
Exousia is intangible, positional power through command.  It was originally given at creation, lost in the fall of Man, regained again through redemption.  Colossians 1:16 says that, For by Him all things were created, both in the heavens and on earthy, visible and invisible, whether thrones or dominions or rulers or authorities all things have been created through Him and for Him.
Exousia operates by a "Knowing" on the inside that your words command and shape the spirit realm and the natural.  Just as Jesus said in Matthew 28:18 that "All authority in heaven and earth has been given to Him."  He has also given it to us because we where made in His image.  When you speak with your God-given authority things must obey you.  Exousia operates by exercising your God-given rights which cause both angels and demons to move.
Exousia often operates by the Spoken Word, but if exousia is strong it can operate through your presence to bring a Govering influence over the atmosphere.  An example of this is Luke 10:19.  You can simply walk into the enemies territory and consciously take dominion over the atmosphere which will quench the enemies control over that atmosphere.
In order to operate in Exousia, you must have a solid knowledge of the Word and boldness in Christ.  It is foundational and is simply apart of your nature and position in Jesus.  If you are not using your authority, then you are abusing your position and power in Christ.
ISCHUS:
Ischus represents the power behind physical strength or inner fortitude.  The Strong's Concordance descries Ischus as ability, force, strength, and might.  You see an example of this in Ephesians 6:10, "Finally, my brother, be strong in the Lord, and in the power of His might."
There is no one more powerful than God.  With one stroke of His hand, God released so much creative power that the entire universe was made.  Also when God moved on the day of Pentecost, the Holy Spirit came as a "rushing mighty wind" and filled the upper room with His awesome power.
KRATOS:
Kratos represents the power associated with dominion.  It is demonstrated power, it is a power that is eruptive, and tangible.  It is the kind of power that you can see with your own eyes.  This is evident in Ephesians 1:20, "which He brought about in Christ, when He raised Him from the dead and seated Him at His right hand in the heavenly places."
This power that God used when He raised Jesus from the dead is the same exact power that is in you.  You have resurrection power working in your life.  This power that raised Jesus from the dead was eruptive, demonstrated power, an outwardly visible power.
All four of these kinds of power are available to you today.   When you invite the Holy Spirit in, you can expect the very same power that raised Jesus from the dead to operate in you.
With this kind of power working in you, you can confront the unseen demonic spirits that come to wage war against your flesh and soul.  When you begin to operate in this God-given power you win over the devil all the time.  He has to flee from you at the name of Jesus.
With this power that is in you, you can lay hands on the sick, pray with power and authority, speak the word of faith over every situation, and see mountains move one your behalf.  Do not let satan rob you of the power and authority that is available to you.  Rise up and take back what has been stolen from you!