God's will for you is to be Healthy!  The Bible reveals that healing and health is His will for you.  When you need healing, you need faith.  To activate and grow your faith for healing, the Word of God, is a powerful tool in getting the truth into your soul.  Faith comes from hearing and hearing comes from the Word of God.
God is a Healer and He has already made provision for your healing.  Psalm 107:20 says, He sent His Word and healed them, and delivered them from their destructions.  God's Word will never pass away or loose its power.  His Words are full of life with supernatural power and authority.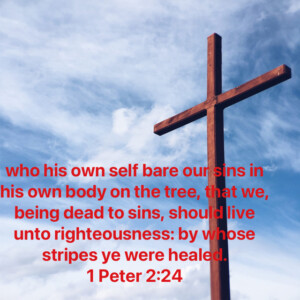 The Word says that you are healed, your healing has already been established.  Sickness is a curse of the law, and Galatians 3:13 says, Christ hath redeemed us from the curse of the law, being made a curse for us…  Matthew 8:17 says that, This was to fulfill what was spoken through Isaiah the prophet: HE HIMSELF TOOK OUR INFIRMITIES AND CARRIED AWAY OUR DISEASE.  That means Jesus Himself already took your infirmities and sickness and healed you before you were even born.
You must learn to read the scriptures with a personal identification.  Isaiah 53:3 says, "… with his stripes we are healed."  You should read that scripture saying, " with His stripes I am healed."  The Word must become a part of you, it has to be in you.
What you believe and speak not only affects your body but your immune system as well.  Your words become either a blessing or a curse for you.  Proverbs 18:21 says, Death and life are in the power of the tongue, and they that love it shall eat the fruit thereof.  Your words can change your immune system for the better or worse, and are vital to your health and immune system.  If you continually speak doom and gloom over yourself, then your body will only know sickness and disease.
When you profess your sickness, you are taking the sickness that satan has offered you.  If you complain about having a runny nose and are sick, you side with the devil.  Instead the Word says "… In the mouth of two or three witnesses shall every word be established." (I Corinthians 13:1)  You may have aches and pains all over, but that is simply how you feel.  What will you let come out of your mouth, the pain or praise.
You must learn to speak the language of health that the body understands.  God's Word is infused into you by giving voice to His Word with your own mouth.  The Word is the language of health to your body.  A continual affirmation of God's Word in faith will build into your immune system a  supernatural anointing that is capable of eliminating sickness and disease in a natural manner.
You have inherited a natural healing power in your body.  Which means without satan involved, any sickness that comes upon your body, your body will cast it off and heal itself.  But satan has come on the scene and he distorts these things, and he has found out that his ability is limited to what he can get you to say.  Jesus said you can have what you say.  Not many christian's know that, but satan does, and he believes it.
If you think back to the last time you were sick, what was the first thing you did?  Did you go and tell someone that you were sick?  When you did this, you activated a spiritual law that gave the authority you had to dominate your physical body over to the enemy.  You established the words of the enemy instead of God's Word.
We live in a word-dominated environment, and our entire lives are the result of what we have been saying.  That is why scripture tells us to put God's Word first, and all these things shall be added unto you.  Put God's Word in your heart, meditate on it and speak it.  You were given the ability to speak like God for a reason.  You have the right to choose what words you speak.  But to unlock healing, you must take authority over your words.
Medical science aids healing through physical means.  God's Divine Healing is spiritual.  It is administered through the human spirit.  I Corinthians 2:10 says that, For to us God revealed them through the spirit; for the spirit searches all things; even the depths of God.. God's word will heal your body through spiritual means.  You must receive God's word concerning healing into your spirit for supernatural healing.  Someone else cannot speak your healing over your body, you have to do it.
You must see yourself well, just as the women in Mark 5:25-28, with the issue of blood did.  She continued to speak to her healing until she saw herself healed.  She pressed through the crowd and continued to see herself whole by constantly saying, " I shall be restored to health."  She let her faith take over instead of her feelings.
Feelings change for day to day, but God's word never changes.  It always stays the same, regardless of how you feel.  It was the woman's faith that made a demand on the healing anointing that was upon Jesus.
Learn to program yourself by the Word.  When you feel bad, say "Now what does the Word say about that?"  His Word says, 'By His stripes, I'm healed.'  Therefore I won't receive your sickness satan.  You can just pass on by me.
It is very simple to resist the devil, once you get the word of God in your spirit.  Begin to apply the Word to your everyday life.  Learn to rise to the level of God's word by quoting what God said.  Then you can boldly say, " According to the Word of God, I am not sick.  Jesus took my sickness, He bore it for me, and therefore I receive my healing through the Word."
Confess God's Word over your body daily.  Declare life over yourself.  Declare health over your body.  Your body will respond to your voice; how much more will it respond to God's word spoken in faith!  Remember that God has already made provision for your healing and health.  Receive that provision by your faith.  Meditate on the Word daily.  And if you need healing, speak healing scriptures over your body multiple times a day.  When you do this watch your healing manifest in your body.
There is so many healing scriptures in the Bible.  Below are just a few to speak over yourself.  You can start with these, but I encourage you to dive into your Bible and find more.  I also suggest that you get the book God's Creative Power For Healing by Charles Capps, if you want to learn more.  It is a good book to have on hand.
Exodus 23:25-26
Deuteronomy 30:19-20
Psalm 91:9-10, 14-19
Jeremiah 30:17
Romans 8:2, 11
Hebrews 10:23