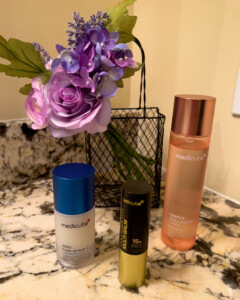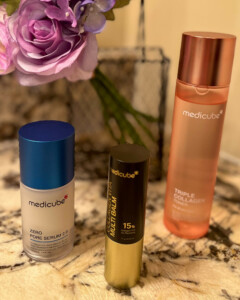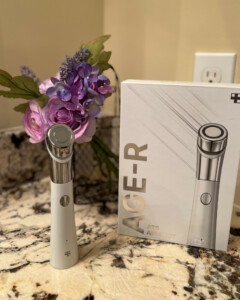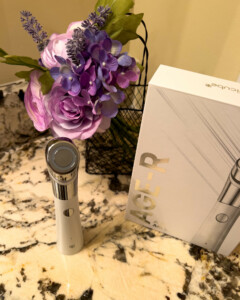 DETAILS:
ATS Air Shot: Medicube | Collagen Toner: Medicube
Pore Serum: Medicube | Collagen Stick: Medicube
Today I want to talk to you about the Age-R ATS Air Shot from Medicube.  I have been using this device on my face for a little over a month and I have already seen results.  My skin is smooth and my pores are less visible.  I also noticed that my fine lines have smoothed out.  This device was a game changer for me and I am so happy that I decided to purchase it.
The ATS Air Shot is a needle-free pore tightening derma pen, and it brings a skincare clinic to your home.  If you read on their website, it says that it helps accelerate absorption.  It also helps obtain non-damaging skin passageways that help improve skin conditions, brighten the skin and accelerate absorption.
You will also notice on their website that they give you lots of information and clinical results, which I like.  After reading all the information, I felt well informed and comfortable using the device.
So the device has five levels and it is recommended that you start on level one.  That is what I did and I immediately saw results.  I am still only on level three, but I am seeing results, so I am taking my time working my way up.  I use it twice a week for 5 minutes.  Surprisingly I still have not had to charge it yet, so it has amazing battery life.
I even have my mom using this device and she too has seen results.
Along with this device, I have been trying some of their skincare too.  I have the Glass Glow Toner, which supplies your skin with collagen.  Also the Zero Pore Serum, which helps with oil and balancing skin moisture.  Finally the Deep Collagen Vita Stick,  that I dab under my eyes before makeup.  It has smoothed out my fine lines around my eyes.
I am really happy with this company.  They have great products that work and are well priced.  I am a product girl so I have tried lots of skincare and spent a lot of money on them, but these items have really exceeded my exceptions.
So if y0u are looking for medical spa results, but do not want to spend the money,  I would suggest this device.  I also would suggest trying out their products.