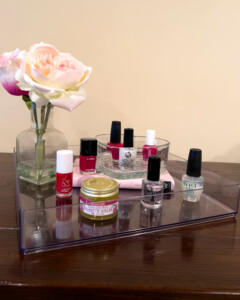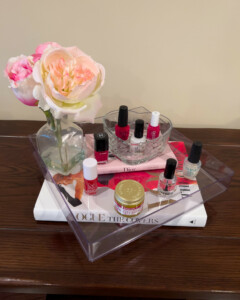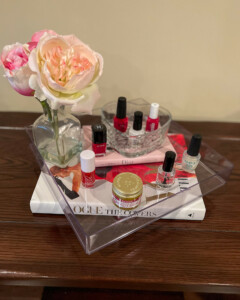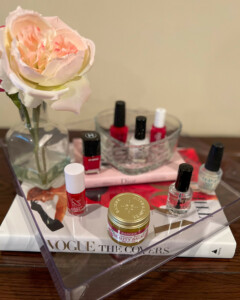 DETAILS:
Heart Dish: Similar | Tray: Brightroom
Nail Strengthener: OPI | Ridge Filler: Seche Vite | Top Coat: Seche Vite
Red Nail Polish: Essie, OPI, Olive and June, Chanel
Ahh…Classic red nail polish, my favorite.  With Valentine's Day next week, I thought it would be a good time to bring out the red nail polish.
Today I am sharing with you a few of my favorite red nail polishes from Essie, OPI, Olive and June and Chanel.  Now obviously there are many more brands out there selling red nail polish, but these are my favorite reds that work well with my skin tone.
Now my skin tone is more on the cool side, so I gravitate more to the blue-red tone of reds.  In the summer when I have a tan I can pull off the orange reds better.
I still like to use the OPI Nail Envy as my first coat, followed by the Seche Vite Ridge Filler.  I like to top my nails with the Seche Vite Top Coat.  I find that this combination works well and my nail polish stays on.  I hope you are able to find the right red for your nails!